Festival Makeup Inspo
If you'll be jamming out at a festival or two this summer, you may be in need of some makeup looks that are sure to make you stand out from the crowd (we don't do basic).
Last year it was all about the flower crowns, but this year its all about shimmer, gems, BOLD eyes and even bolder lips - It's time to be your festively fun self! Even if you haven't bagged yourself a ticket this year – you can still enjoy the festival vibes and enjoy all of the makeup-looks and trends that go with it...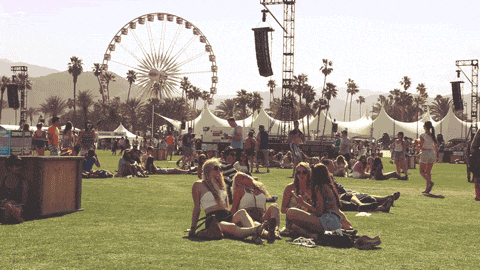 I-divine : Acid.
The perfect palette to create a bold festival makeup look is our I-divine Acid Pallet. It has mix of both matte and shimmery bright colours. You can create multiple looks for every type of festival, from Rainbow Eyes to *Galaxy Lips*.
Look 1 - Rainbow Eyes.
Our Bae @heeycourtney used our Acid Palette to create this amazing asymmetric rainbow effect eye look, experiment with your favourite colours from the pallet to recreate this look. Forget about getting each eye perfect.
Look 2 - Cool Vibes.
You can also create a bold look by using different shades of one colour @xcaromua created this look by using the cooler colours in the Acid i-divine Palette.
Look 3 - Gem Princess.
We all love a good highlight but this season there is more than one way to glisten. We love how @andrearomanm used our i-divine Acid Palette to create this glam tribal look and accessorised with gems above her brows.
Look 4 - Galaxy Lips.
After applying your fave Matte Me as a base - add some depth with a layer of shimmer from our i-divine Acid Palette - like @shelingbeauty this look is pretty easy to accomplish and is easy to reapply and top up on the go.
*Top Tips* Be sure to use our Control Shine & Prime Primer for mega lasting power - Creased eye-lids will be a thing of the past.
Party all weekend - Slay all summer long!